Protect our Beaches!
If your trash cans are blowing over and the gulls are ripping your trash apart, you know where the garbage is going to end up!
Our 2, 3, and 4 Can Trash Enclosures can help protect our precious shore environment. Isn't that why everyone loves coming here in the first place? So do your part-secure your cans! We can construct the enclosures out of the same materials as our fences: cedar or PVC. Below are some of our most popular styles made out of our maintenance free white PVC, complete with a pressure treated decking floor. You cannot beat the quality!
No need to battle the traffic! Give us a call and we can usually deliver locally within a week to 10 days!
The dimensions for the popular PVC enclosures are approximately 36"H x 36"W and 54"L (2-can), 80"L (3-can) and 96"L(4-can)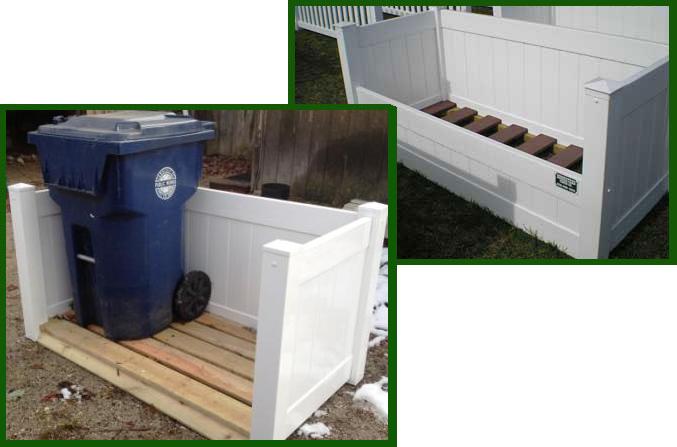 Above is our newest "ROBO-CAN" style shown in 2-can size. NOTE: These sizes are larger than the standard.
Below is a sample of our most popular style of the cedar trash enclosures. It shows the 4-can solid dog ear style with a low front. This can be made in the 2 or 3 can size as well.