Storage Sheds
Our storage sheds are available with either vinyl or DuroTemp painted siding. The sheds on our lot are for sale (unless noted otherwise).  We have tried to pick out the most popular colors and options, although others are available. The sheds that are on the lot are typically available for delivery with in a week (pending PERMITS, etc…) The lead time for custom ordered sheds is typically much longer and varies throughout the year, depending on current demand and backlog.  When ordering a custom shed, you can choose from our large selection of colors and arrange the doors and windows to your preference as long as it does not interfere with the structural components of the shed.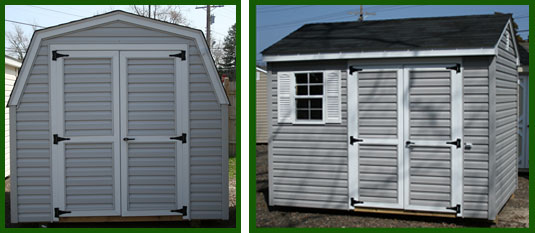 Permits are required! Please see your local Township or Borough. WHEN INQUIRING YOU SHOULD BRING A COPY OF YOUR SURVEY MAP. Footings are also required in certain coastal zones.  Footings and 4" gravel base are NOT included in price!  These are optional add-ons. We can provide a quote based on an approved building permit or advise on industry recommendations, but these DO NOT replace your local ordinances.  Many homeowners opt to do this site preparation and footing requirement on their own, but be sure to follow the Town's inspection schedule. 

The storage sheds are delivered fully assembled by trailer (shown above).  Passageway to the site drop off area must be suitable to accommodate the truck and trailer.  The driver must have straight access and passage to the drop off site. The sheds, having an average height of 9', sit on a 2-1/2' trailer.  All branches, wires, and other obstructions (ground or overhead) must be cleared.  If you cannot provide clear drop off access, these sheds can be built on site at an additional fee. Stop by our office to see our stock sheds, pick up a brochure and view our custom options.